---
---
This private project has allowed us to create the ideal match between functionality and aestheticism. In this particular case, our client wanted to decrease reverberation time from 0,8 seconds to 0,3 seconds in his home cinema without having to install inconspicuous and cumbersome pre-made acoustic panels.
Our challenge was to maximize our panels' efficiency to absorb high-frequencies, which are the main source of unwanted reverberation and echoing issues.
Since our acoustic panels were entirely made by hand in our Montreal workshop, we could easily test our product, and were able to produce panels with an absorption rate of 90% of medium and high frequencies.
Photos of the city by night were carefully selected to be printed on our perforated mesh, concealing our panels' technical components and blending in with the room.
---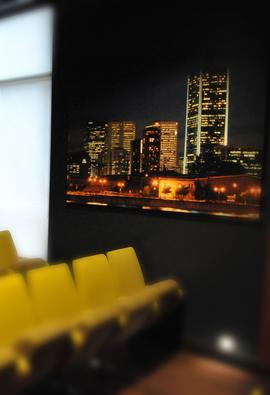 ---