---
---
Client : Mercedez Benz
Type : Commercial
Related services :
Selected product :
---
Our client, a die-hard F1 fan and Mercedes aficionado, had one request; to bring glorify the classic aesthetic beauty of such well-crafted engines.
We accepted the challenge and were able to enhance the lo-resolution images provided by The MercedesBenz Museum.
In addition to the customer's requirements, we were faced with a technical challenge on site. The surface on which we were to install the mural, an access ramp to the garage, was built out of raw concrete. A special liner had to be applied to smooth out the irregular texture prior to the suede finish vinyl installation. To ensure a long-lasting adherence, we used a heavy-duty adhesive made for vinyl to vinyl applications.
---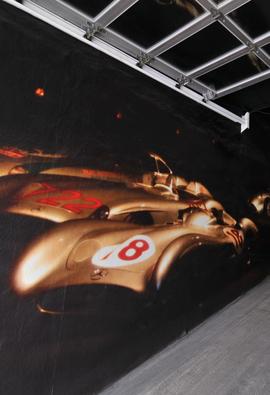 ---