---
---
Client : Nouvel Europa
Concept : Martine Brisson
Type : Commercial
Related services :
Selected product :
---
The essence of this residential project was to unveil the historic nature of the building originally constructed for Montreal Southern Counties Railway in 1910. Designer Martine Brisson's main goal was to integrate this true nature into a modern and functional architectural concept. NumérArt's mandate was to dress every single hallway of the 9 floor building.
Under the designer's guidance, we developed a custom mural evoking traces of a concrete formwork.
Our main focus was to avoid artificial repetition, without losing the essence of the actual process of creating a frame. For this purpose, various shots captured by Patrick Pepin served as the basic canvas for the design. Then the dosage of formwork and color intensity was expertly calibrated to represent fairly and accurately the actual appearance of concrete panels. In order to avoid color fading, our commercial-grade vinyl was printed with UV-cured inks, which allowed maximum resistance even with repeated sun exposure.
Photo credit: Marc Cramer
---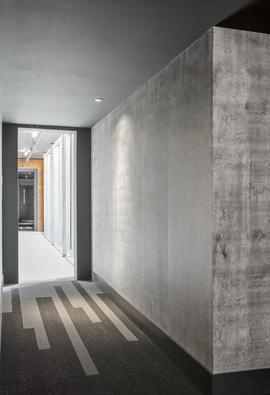 ---