---
---
Client : Diverso
Concept : Total Wrap - Gold Printing
Date : 2021
Type : Commercial Residential
Related services :
Selected product :
---
To fulfill this task, we had to refine our techniques in order to achieve a uniform visual, although the materials used differed according to the surface. We had to recreate a huge wall of flowers without noticeable repetition in the pattern. We used 89 roses and created a unique composition that was seen mixed with real flowers to create a real trompe-l'oeil effect.
Furthermore, we had to choose a material that would be resistant to abrasion and shock on the floor in order to welcome visitors without damaging the design as well as preserving the uniqueness of the atmosphere.
It was also the very first time that we had printed with gold media together with such a vivid and uniform bright red with an undercoat of double layered white ink. This high gloss material easily shows imperfections, so we closely monitored quality throughout printing and thoroughly validated each panel.
When we finished printing and checking each part, we prepared a rigorous installation plan so ICON installers in Toronto could bring the project to life without a hitch.
---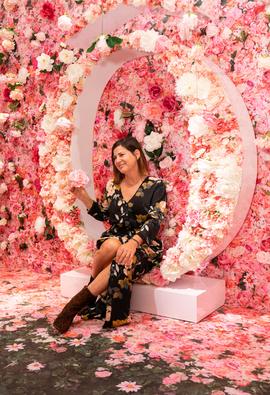 ---